GENERAL INFORMATION
What is printreett.com?
PrinTree is a premium solution for online ordering of items you want printed - A true online design and order storefront.
What are the benefits of shopping at printreett.com?
· Easy to Use
· Convenient - Place Orders 24 / 7 (No need to get dressed, order in your jammies. No need to wait for our physical stores to open)
· No travel time (Let's face it - traffic is depressing)
· Discreet Shopping
· You don't have to talk to anyone face to face. (For all the introverts out there).
ORDERING / PRODUCTS
Orders
How Do I order? - You can order two ways:
Design online using our online designer. Multiple pre-designed templates available.
Upload your own 'print ready' files. (File types: JPG, JPEG, PNG, EPS, AI, PDF and PSD images
Do I need to have my own Design?
No, you don't need to have your own design. You can customize one of our designs using our 'online designer'.
What does 'Print Ready' mean?
As the name suggests, it is a file that can be printed readily. It must have a minimum resolution of 300 dpi, it must be the actual size of the print and must not require any corrections or editing whatsoever.
What file types can I upload?
JPG, JPEG, PNG, EPS, AI, PDF and PSD images.
Can I upload multiple files?
Yes. Go to the 'Upload Files and Order' tab and follow the instructions there. Important to note is that the files will need to be for the same type of job for easy check out. E.g. You can upload 5 business cards types (Not certificates, business cards, posters etc).
My order quantity / details are not listed on the options?
If it is not listed online, email us or give us a call at 628-9330 or 224-4875 ext. 1260 or 1382, so that we can have your quantity / details processed.
Do you accept rush orders?
Yes. To find out more and to expedite your order faster, please contact us at 628-9330 or 224-4875.
Do I need an account or need to register to place an order?
No, you do not need an account or to register to place an order. However, it is recommended that you register for additional benefits. These include the below:
PRINT TERMS EXPLAINED
Single Sided / One Sided Print
This means that only one side of the paper will be printed.
Double Sided or Both Sided Print
This means that both sides of the paper will be printed.
What is the difference between a page and a sheet (or leaf)?
A page represents one side of the paper. For example, 1 sheet or leaf of paper has two pages. See image below: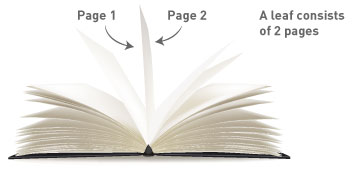 What is 'Lay flat' Paper? (Used in the photobook section)
This option allows the book to lay completely flat, when opened to any page, on a surface for easy viewing, and you won`t have to worry about 'bellying' or part of your pages being lost in the gutter of the book.
Printable Cover (Used in the photobook section)
This means that your cover can be fully customized with a photograph or photographs, or design of your choice.
What is Never Tear Paper / Board?
This is a polyester based synthetic paper / board. Resistant to Water, chemicals, oil and stains. This Paper will hold up in the harshest of environments. It has a smooth Matte Finish which produces vibrant images. Our Premium Never Tear paper achieves strength and durability without the use of lamination, saving both time and money.
ACCOUNTS
Why should I open an account?
· Opening an account is FREE. No subscription fees.
· One-time process.
· You can save your work to continue later.
· View past orders
· Upload and store images to your account for quick access.
· Get the latest updates on new products added.
· Members only discounts.
SECURITY
How can I be sure that your website is secure?
Your online safety is of utmost importance to us. Our site is SSL secured, verified by Visa, and secured by MasterCard SecureCode. We use Amazon Web Services (AWS). This provides several security capabilities and services to increase privacy and control network access. Read all about it here https://aws.amazon.com/security/?nc1=f_cc
Your credit card information is NEVER stored by us, anywhere.
SECURE PAYMENT Via Credit Card is Powered by First Atlantic Commerce
Your payment for your purchase is processed securely by First Atlantic Commerce (FAC).
At PrinTree we take security very seriously. Our platform uses the most powerful security tools that exist in the marketplace (See AWS link above) and all sensitive information, including bank account and credit card information, is stored encrypted. Processing is performed by SSL (Secured Socket Layer) and compliant with Card Industry Data Security Standards.
We give our customers the freedom to make purchases and secure online payments without worrying about their security and privacy.
DELIVERY
What are your delivery options?
· Free pick-up at the following locations:
#80 Woodford Street, Port of Spain

Den for Men Trincity Mall

Den for Men - C3 Centre, San Fernando
· Via Courier - Trinidad (4 to 5 working days) - $40.00
· Via Courier – Tobago (5 to 7 working days) - $65.00
· Via FEDEX- International 3- 7 days (Pricing depends on product)
Do you ship to other Caribbean islands or overseas?
Yes. As an authorized FEDEX partner, we can deliver to over 220 countries worldwide.
What is your address?
-Online: Wherever you are… :)
-Head Office: #80 Woodford Street, Port of Spain