Some comments from our customers:
---
Dear Jared,
I just wanted to say thanks once more for your assistance with the photo book, and for the production team in putting it together in a professional manner.
The person who it was made for loves it, and I am very grateful for the service provided.

Warm regards for a safe and merry Christmas to you and your family and all the best for the new year.
Raj
---
Thanks Jared and Nekesha
The copies were great. For the record, I sent our 4 emails to various companies requesting quotations for my job, with the link to the documents etc. Yours was the only one to reply to me. That to me demonstrated that no matter how small the job, you all value service to the customer.
Rishi Maharaj | Executive Director
---
---
Too Awesome!! I just can`t. lol. Someone stop me from ordering so much. You will always have my business!! Excellent customer service.
- PrinTree Customer
---
You`re amazing. Definitely delivered. Y`all have won.
---
I amvery pleased with the level of service from yourself and printree. The website and ordering process is extremely easy to use and very efficient. The flyers I printed were of a high quality and looked great. This is a service I will continue to use and would also recommend to my colleagues.
-Kristy R. - PrinTree Customer
---
I was more than pleased and very satisfied! It's exactly what I was looking for. Will be ordering more in the near future.
- Onika John - Printree Customer


---
Thank you for following up. The client was very pleased with the product, thank you!
This will not be the last time that I use Printree's services.
---
We were very happy with the cards, and the speed of delivery. Keep up the excellent service.
---
I first found out about Printree from the Guardian newspaper a few months ago. I decided to check out their website and see what they had to offer. The had a wide variety of services, a few that I`ve used on US-Based websites like Vistaprint. I decide to give them a try to check the quality of their products. I first ordered a wide format print from their signage category, I believe this was on a Sunday and on the Monday I received a call to confirm the form of media I wanted the print and by the next Monday I had my order and was very impressed with the quality of the product. Without hesitation I ordered two more custom prints but this time when I received my order, I got a duplicated item and so I was one print short. I contacted them via their live help on their website (on a Sunday) and yes they were available. I spoke with a lady by the name of Nekesha. She was very friendly and helpful and she ensured the correct order was sent to me at no additional. After I had received my order they even called me back to ensure that (1.) I had received the correct print, (2.) that I was fully satisfied with the quality and (3.) apologized for inconveniencing me.... Yes apologized.... there is no where else in Trinidad & Tobago I have ever gotten customer service this good. I didn`t have to fight down or quarrel to get a quality service.
It is because of their unique blend of Quality and Customer Service that I wouldn`t hesitate to recommend them to anyone and to come back to them for future projects.
Mr. David Richard Williams - PrinTree Customer
---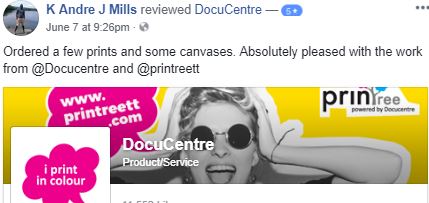 ---
"I had such a wonderful experience doing business with Docucentre.
I placed a rush order for some business cards and was able to collect the same day. I really appreciated the speedy transaction and their affordable pricing.
Definitely will be a returning customer. Five stars!"
---
I have to say, I used the service and I am extremely happy with the service, response and ability to do the things I would like to do via your site.
Pam
Online Customer
---
Ordered business cards online. I love it, Excellent Quality.
---
I am a happy camper.
I do have to tell you something about myself, I am really anal about service, and complain bitterly (but respectfully) when I have a poor service experience. It is also important for me to recognize when I have a good customer service experience. The photography is purely a way for me to relax and disconnect from my job for a few hours a week. I am the Executive Vice President of a company that is in the middle of starting up production from fields in the Gulf of Paria.
On my second visit to your offices I was already singing the praises of your service. I have also been talking to those in my circle about the service that I received. What I saw was "Joe Blow" picked up the phone and called for information, got the information and an offer of help to facilitate my potential small transaction. This was followed up with a visit to your offices where the service continued. Everyone was very accommodating, even Matthew reaching out to me over the weekend, and Lystra's follow up to get my additional print sorted out.
All in all, I probably spent just over a thousand TT dollars, which does not even put a dent in your company's annual income. Despite that, I have walked away from the experience feeling like I am one of your long time, valued customers. In fact, I feel like I am your only customer. I thank you and your team for this extremely positive experience.
Fortunately or unfortunately (lol) TSL and The DocuCentre will be seeing a lot more of me in the future.
---
"Many thanks for your competent and efficient handling of this urgent printing request. We look forward to working with you in the future."
JoAnne Richardson
| Senior Program Manager/Project Director
National Center for State Courts